Nikken Sekkei Executive Offers Alternative Design Solutions in Bangkok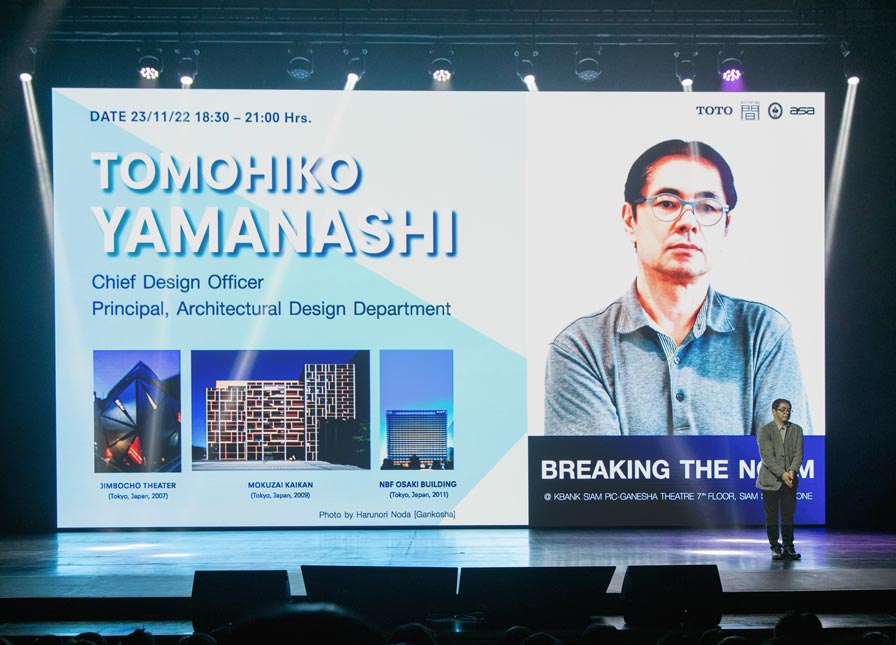 (Bangkok) – Nikken Sekkei showcased its alternative architectural solutions to the Thai design community at a Nov. 23 presentation at KBank Siam Pic-Ganesha Theatre in the nation's capital.

Speaking before of an audience of more than 1,000 industry fans, future architects and planners on the theme "Breaking the Norm", Nikken Sekkei Senior Executive Officer and Chief Design Officer Tomohiko Yamanashi introduced his company's ideas through a selection of significant projects, sharing his knowledge of the conceptual and technical aspects of the designs.

The presentation included NBF Osaki Building (former SONY City Osaki), HOKI Museum, Toho Gakuen School of Music, Mokuzai Kaikan, W350 Plan, Jimbocho Theater, and "On the water", a summer guesthouse.

Yamanashi described the noteworthy characteristics of each of the projects. NBF Osaki Building, for example, features the company's revolutionary "BIOSKIN" cooling system, in which the air surrounding a building is cooled using heat from evaporated rainwater. HOKI Museum is known for its gravity-defying cantilever, while Mokuzai Kaikan's extensive use of timber demonstrates the multifarious design appeal of wood. Toho Gakuen School of Music offers different alternatives on how to imagine and manage functional spaces while delivering a visually striking architecture.

Several of the projects were the recipients of prestigious design awards. The lecture was promoted by TOTO (Thailand) Co., Ltd. and the Association of Siamese Architects (ASA).